SIAMS
SIAMS Outstanding Award
in July 2017, at a very special award ceremony at the Diocese of Oxford we were officially presented with a beautiful plaque. In November 2016 we were thrilled to be recognised as an Outstanding Church School as part of the SIAMS inspection process, and we were equally delighted to take part in the official presentation.
The plaque is on display in the school entrance, please do come and see it.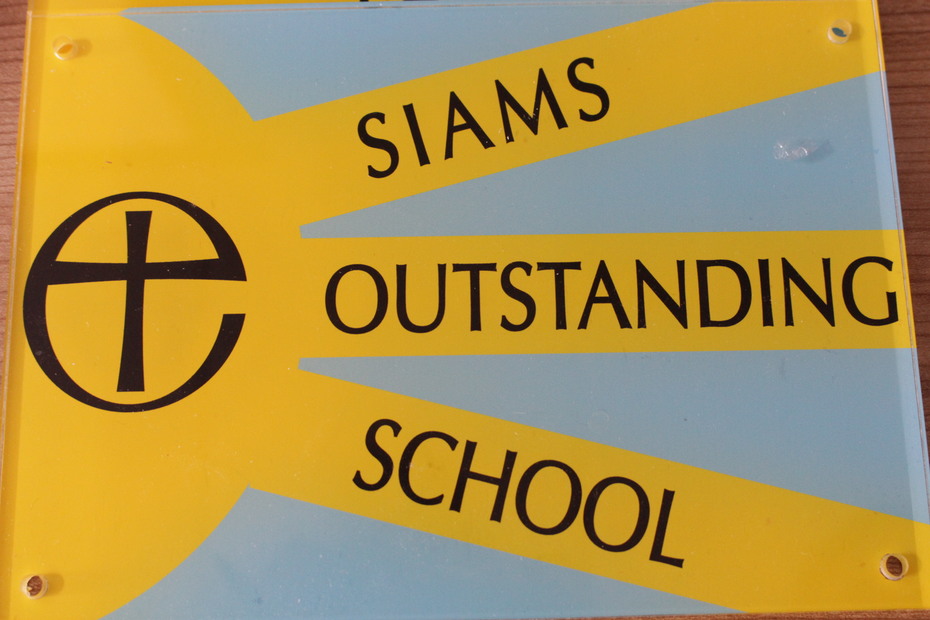 SIAMS Report 2016 (use this link to read the report)
I am delighted to be able to share with you the full SIAMS report, following our Church School inspection earlier this month. Mr Thornsby has judged Finmere CE Primary School to be OUTSTANDING in its distinctiveness and effectiveness as a church school. This is the most wonderful news and truly reflects all the dedication and love, staff, parents, governors and most importantly, the children have for our school. Mr Thornsby was extremely complimentary about Finmere pupils and the warm reception he received during his visit.
In his report he acknowledged:
'The school has a distinctive Christian character that results from the explicit Christian values that run through the practice, policy and very fabric of the school.'
'As a result the Christian ethos has a transformational impact on relationships, behaviour and attitudes. Pupils are confident, polite and have a mature attitude.'
'Spiritual, moral and cultural development is a strength of the school because of the obvious impact of the distinctiveness of the school.'
'This is reflected in the school motto 'Challenging all to shine' and is achieved by developing enquiring minds and talents that nurture each child as a unique individual. As a result each child makes good progress because they are valued, challenged and supported.'
Please do take a moment to read the full report and share with us as we celebrate this achievement. I would like to thank all the staff for their hard work, not only on the day, but in the months leading up to the inspection ensuring we were not only ready, but were all able to truly shine.
I would especially like to thank the parents who met with the inspector: Mrs Rose, Mrs Pearson, Mrs Watkins and Dr Williamson; your insight into the school was invaluable and Mr Thornsby enjoyed meeting you.
Mr Thornsby was also delighted to meet with Ed, George, Bertie and Nieve from Redwood and Jake, Kaelan, Alice Kaitlyn and Ivy from Willow. These children were a credit to their families and our school and we thank them for sharing their knowledge of the Christian values and their love of our school.
Last but not least, I would like to recognise the hard work of Mrs Rayner; her strong leadership and vision ensured the distinct Christian ethos and values were embedded across our wider school community and her hard work and passion were acknowledged by Mr Thornsby.
It is a privilege to be the Headteacher of Finmere School and I look forward to continuing to work with you all in the future.
And whatever you do, in word or deed, do everything in the name of the Lord Jesus, giving thanks to God the Father through him.
Caroline Tucker
Headteacher