Beachborough School Visit
Beachborough School invited our year 5 & 6 pupils to join them for the day in February as part of their Inspiration for Innovation Programme".
Year 5 and 6 were treated to a day of investigating 'Intelligent Mobility' and what kind of career opportunities are available in this field. They investigated the potential of driverless cars and witnessed a Volvo being driven with no hands! They worked in groups to create an aerodynamic part for lorries and considered how this would save on energy and pollution. In addition, they designed and made a crash-test model car that would save 'Eggbert' from being splattered! (Eggbert was a real egg). They were delighted to use real laser saws, glue guns and electric drills.
All of year 5 and 6 were exemplary in their behaviour and attitude towards these exciting learning opportunities and it was a very successful day out.
HS2 Schools Growing Spaces Project
Working with representatives from the HS2 schools Growing Spaces Project all of the children enjoyed a gardening day on Tuesday. The HS2 team had already installed a new raised vegetable bed for us and on Tuesday they worked with children to plant a range of vegetables and herbs, including: mint, onions, lemon balm and rosemary.
We had a fantastic time and are grateful to Kevin McNamara and the HS2 team for such a fantastic learning experience. The team will return later in the year to work on a 'growing wall' project with the children.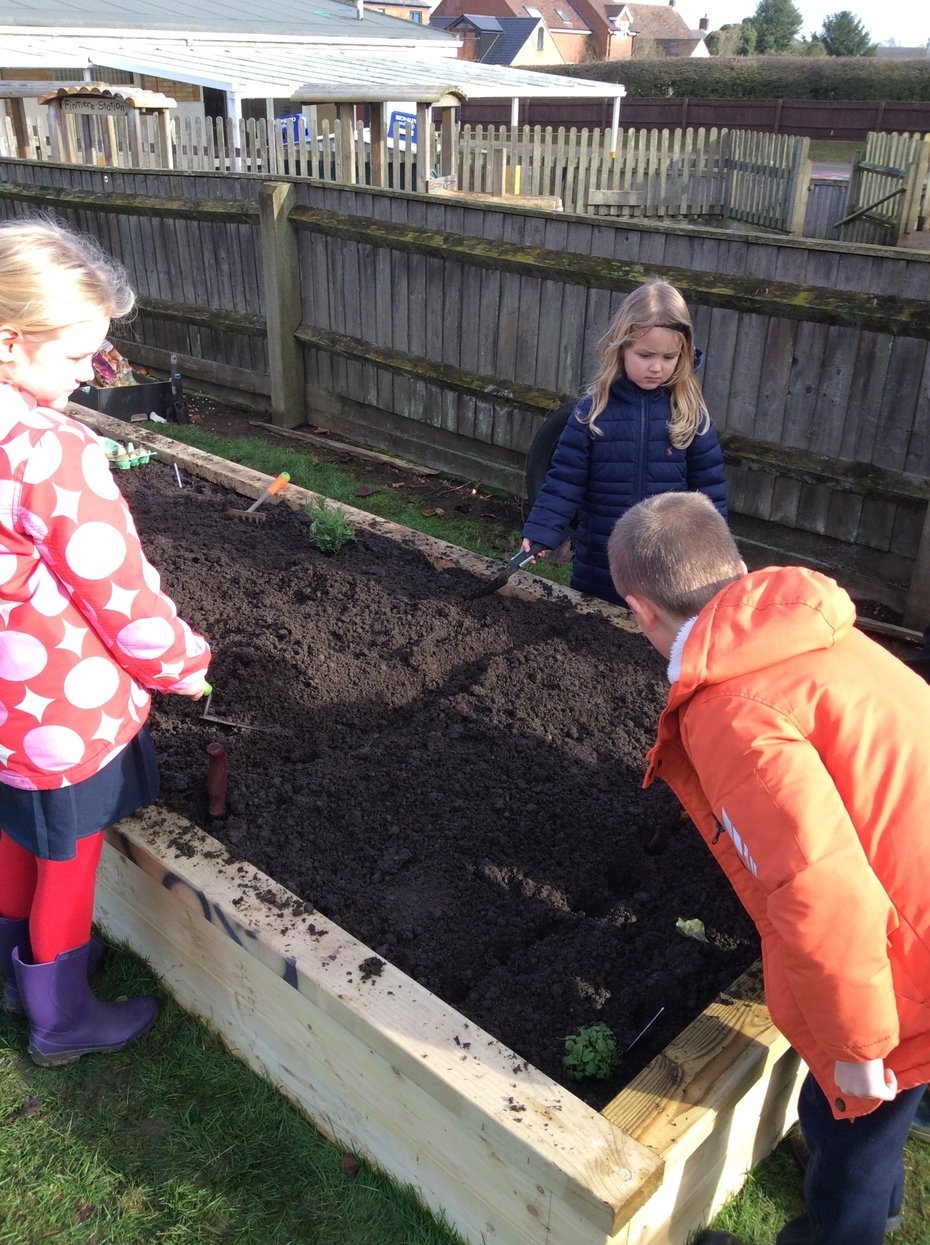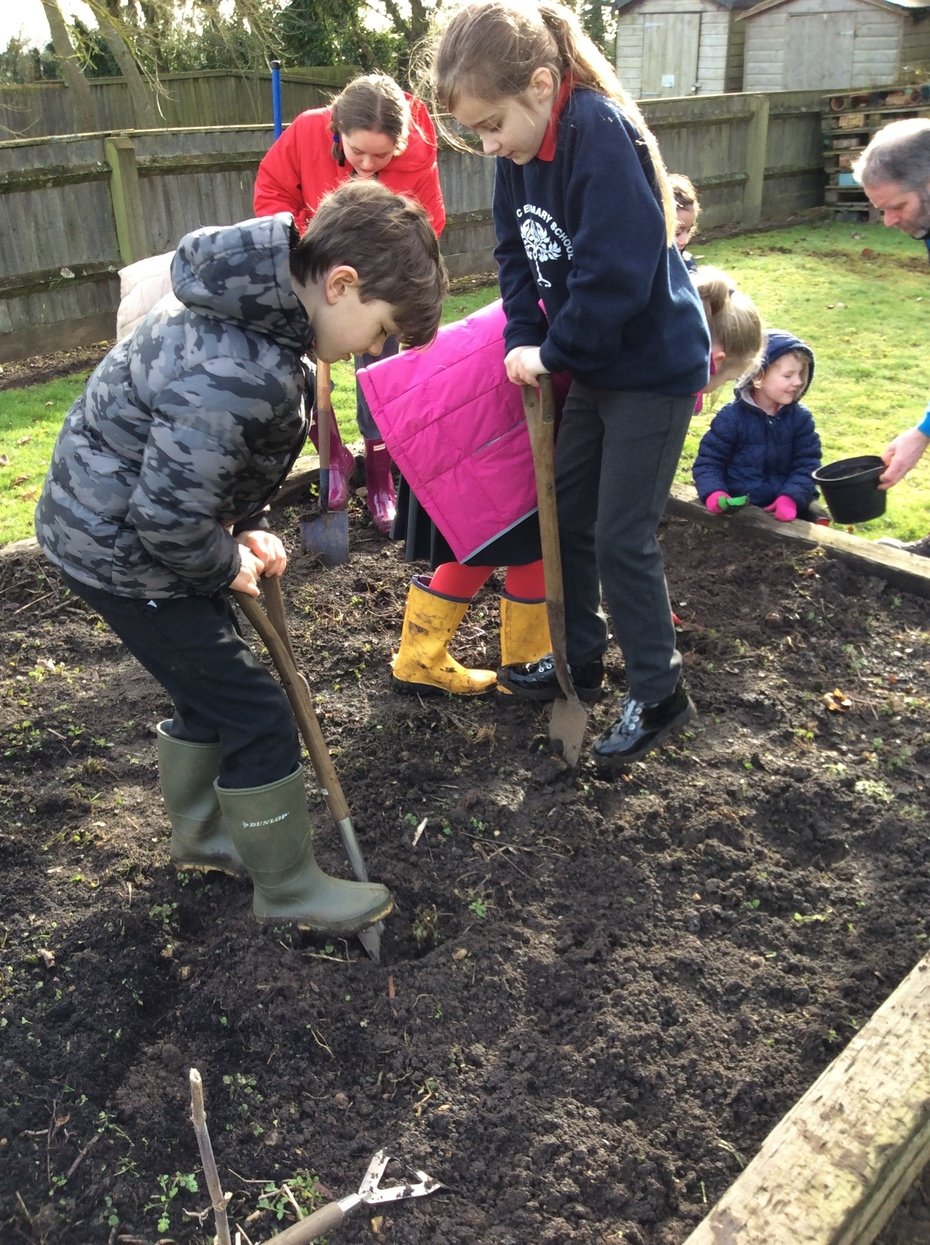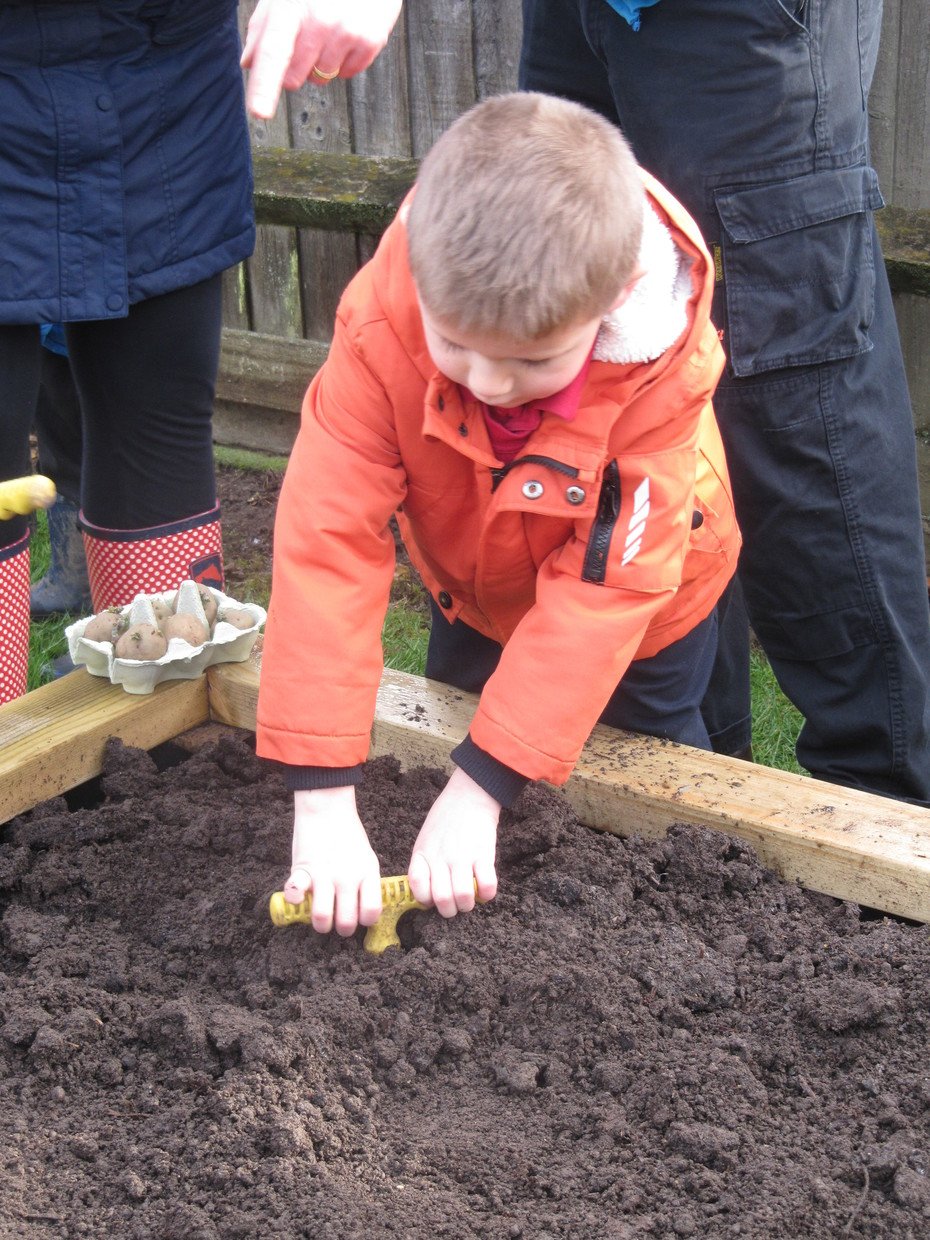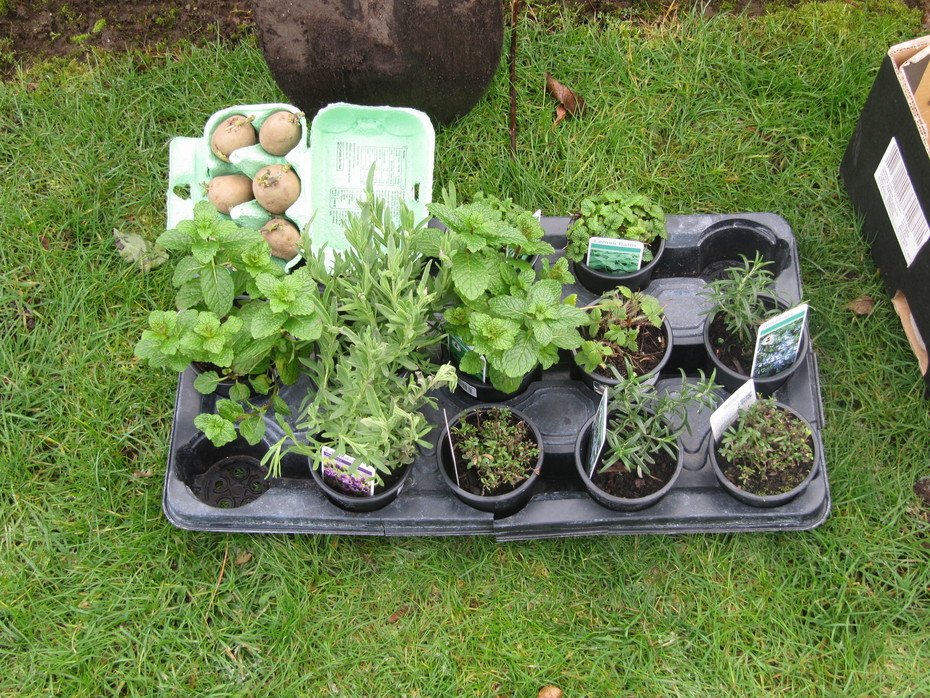 Junk Orchestra Band Workshop
In January we welcomed 'Junk Man' into school for an afternoon of music making with a difference. He brought with him a selection of weird and wonderful instruments including 'fire bells' and 'flip flops' which were all made from objects retrieved from dustbins and junk yards. All of the children had the opportunity to be the band and the fans ("the band and the fans are the best of friends - the band needs fans to cheer them on, the fans need the band so they can boogie-woogie") and made wonderful music in the school hall together. Many thanks to everyone who put donations in the bucket at the nativity performance last term - this funded our magical afternoon of music and dance which will, in turn, inspire us to be musically creative in class in the weeks to come…
The Wizard of Oz
Congratulations to everyone involved in this year's summer production of the Wizard of Oz.
The children were amazing; they remembered and delivered all of their lines so well and entertained us with wonderful performances.
We loved the costumes, the set and the props and we were wowed by the wonderful singing.
Special recognition goes to our five Year 5 children: Ruby, Jake, Oscar, Grace, and William who played the lead roles of Dorothy, Scarecrow, Tin Man, Lion and the Wizard - you were wonderful and we were very proud of you all. Thank you for being such fantastic role models to our younger pupils.
Thank you to parents and families for support again and a huge thank you to Mrs Batsford and her team for another. See photographs from the performance above.
Atomic Tom
In March we were joined by Atomic Tom who delivered an amazing morning of science for the whole school.
Tom began by doing an assembly in which he showed us how to make a tornado with two bottles of water and demonstrated how air displaces water when you blow into in! Our experiment was to see who had the bigger lungs: Kaitlyn or Atomic Tom - let's just say, when Tom blew into the bottle of water lots of people got wet!
Then Willow class had their lesson with Tom focused on Food Chains. Tom led an exciting game where children played the parts of Plants, Consumers and Predators. It was very exciting to see who gathered enough 'energy' to survive.
Willow's second activity was sorting through earth and leaves to find and classify bones, skulls, teeth and jaws from small animals such as birds, shrews, mice and voles. The children worked really well using tweezers to find animal parts and then used the classification sheet to sort what they'd found. Do ask them to tell the disgusting fact they learnt about owl sick!
Redwood's learning was based around atoms and electricity. The session began rubbing balloons onto each other's hair to create a 'charge' so the balloon could make hair stand up, stick to hands or the classroom walls.
Redwood's final experiments involved a Van de Graaff Generator which allowed all the children to gain an electricity grasp of how electricity is created and travels.
Do have a look on our website for some fantastic photos of children with 'charged' hairstyles!
Once again, a huge thank you to FOFSA for enabling such an exciting and inspiring learning experience for all our pupils.