At Finmere Primary we believe that spiritual development is not necessarily religious but is a 'concern to foster the growth of the human spirit'. We consider that spiritual development is about helping children to develop academically but more importantly personally so that they become well rounded and ready to take their place in society fulfilled, happy, spiritually aware and socially and emotionally engaged.
We believe that spirituality is essential for personal happiness. No child is complete without spiritual engagement, be it through art, music, literature, nature etc. One of the ways spirituality can be expressed is through the awareness or understanding of the value of silence and reflection. We therefore actively provide opportunities for our children to reflect and give them time to think more deeply about things to fully appreciate the world around them and to consider the contribution they can make to it.
It is often said that Spirituality will only happen when we are open and willing to go deeper. At Finmere we try to develop spirituality by being creative and engaging, by enabling our pupils to connect with stories, by empowering our children to ask and respond to questions, by promoting play and creativity, by developing relationships, by providing a sense of belonging and by the use of rituals and symbols.
To read our Spirituality Policy use the link below:
Finmere C E Primary School Spirituality Policy
Pentecost Prayer Week
We held a Pentecost Prayer Week. The children listened to readings and stories from the bible and deepened their understanding and knowledge of the arrival of the Holy Spirit. Using the themes of the power of the wind, the flames and of speaking new languages we have enjoyed gardening, origami, sewing and learning a new song which features a South African verse.
This year, we chose to establish our Prayer Space in and around the skulan garden which is a particularly special part of our school grounds. A huge thank you to all the staff and governors for their hard work in setting up some amazing workshops, helping the children create wonderful things to decorate this special space.A special thank you to Mrs Carpenter, whose vision and passion for the Prayer Space has inspired us all this week.
Many thanks too, to the team of church volunteers who visited school each day to help us: Margaret Berwick, Joe Goodall, Jan Shelley, Iris Alder, Alice Goodall and Bill Muncey. It is wonderful to have your support and we very much appreciate your efforts.
We held a Celebration assembly in the garden at the end of the week .
Schultuten
In September 2017 we welcomed Rev Alice into school with some of her helpers from church. Over the summer the ladies had been busy making Schultuten gifts for the new children and staff at school. Schultuten is a German tradition which strengthens links between the church and school. We were delighted to receive our gifts and look forward to this becoming a new tradition at Finmere School.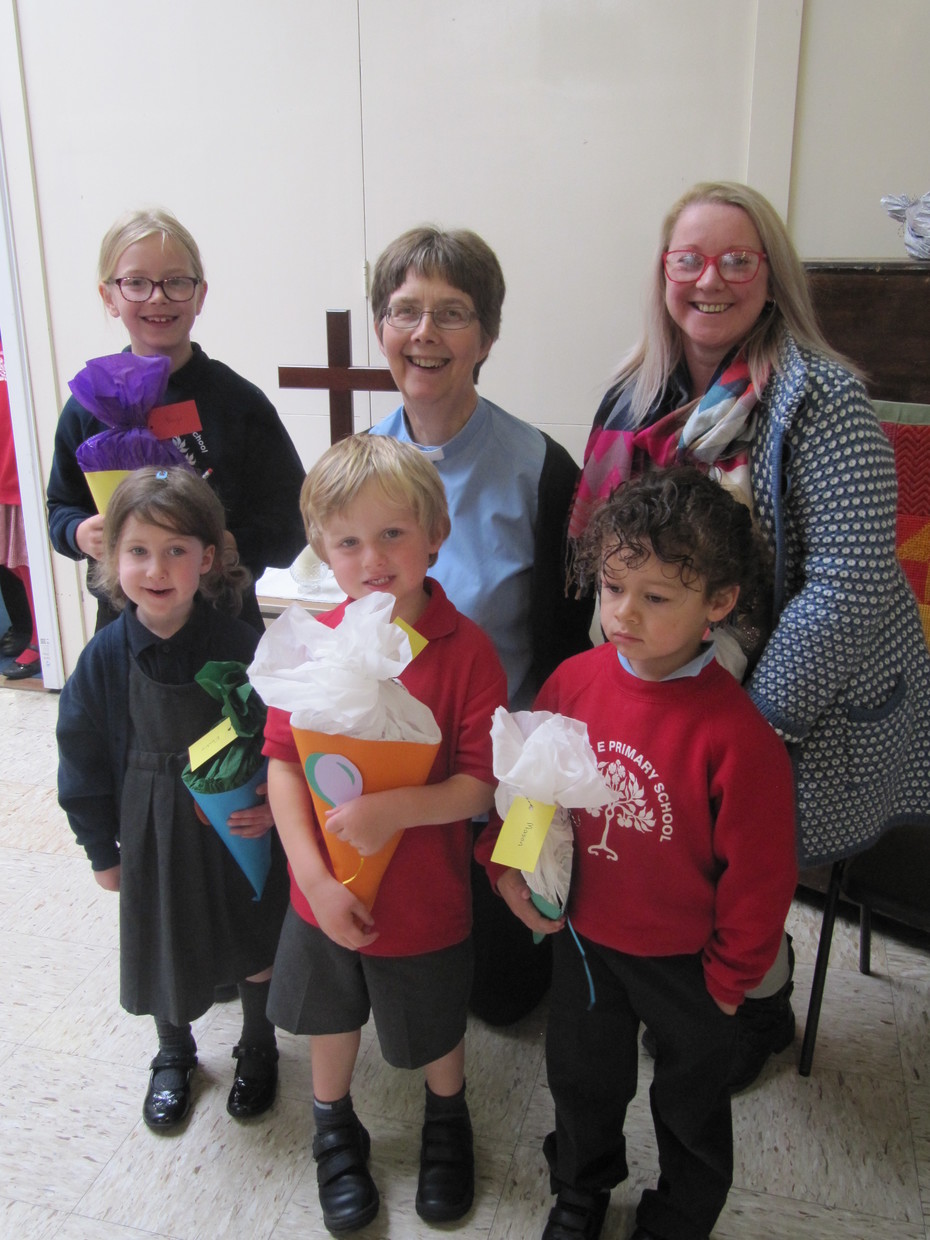 Funday School
"Funday School" is an after school club held monthly at the school which is organised by Amanda Houston (Family Ministry Coordinator for Shelswell group of Churches). The sessions include: snacks, bible stories, crafts, games, singing and creative prayer.
Harvest
On Wednesday 18 October at 2.00pm at Finmere Church we held our Harvest Festival Service. Parents, relatives and friends joined us for the service.
We asked for donations of non-perishable goods e.g. tinned soup, tea, sugar, flour, rice (with long sell-by-dates). All donated goods were sent to the charity 'Bicester Emergency Food Bank'.
We will also welcomed donations of fresh produce which we sold at the end of the service and money raised was also donated to the Food Bank.
At the end of the Church service tea and coffee was served.
Remembrance Service at Finmere Church 2017
On Friday 10th November at 9.15am all of our children made poppies for a poppy wreath which we laid at the Finmere memorial. Below is a photograph of our eldest and youngest pupils carrying the poppy wreath to the memorial.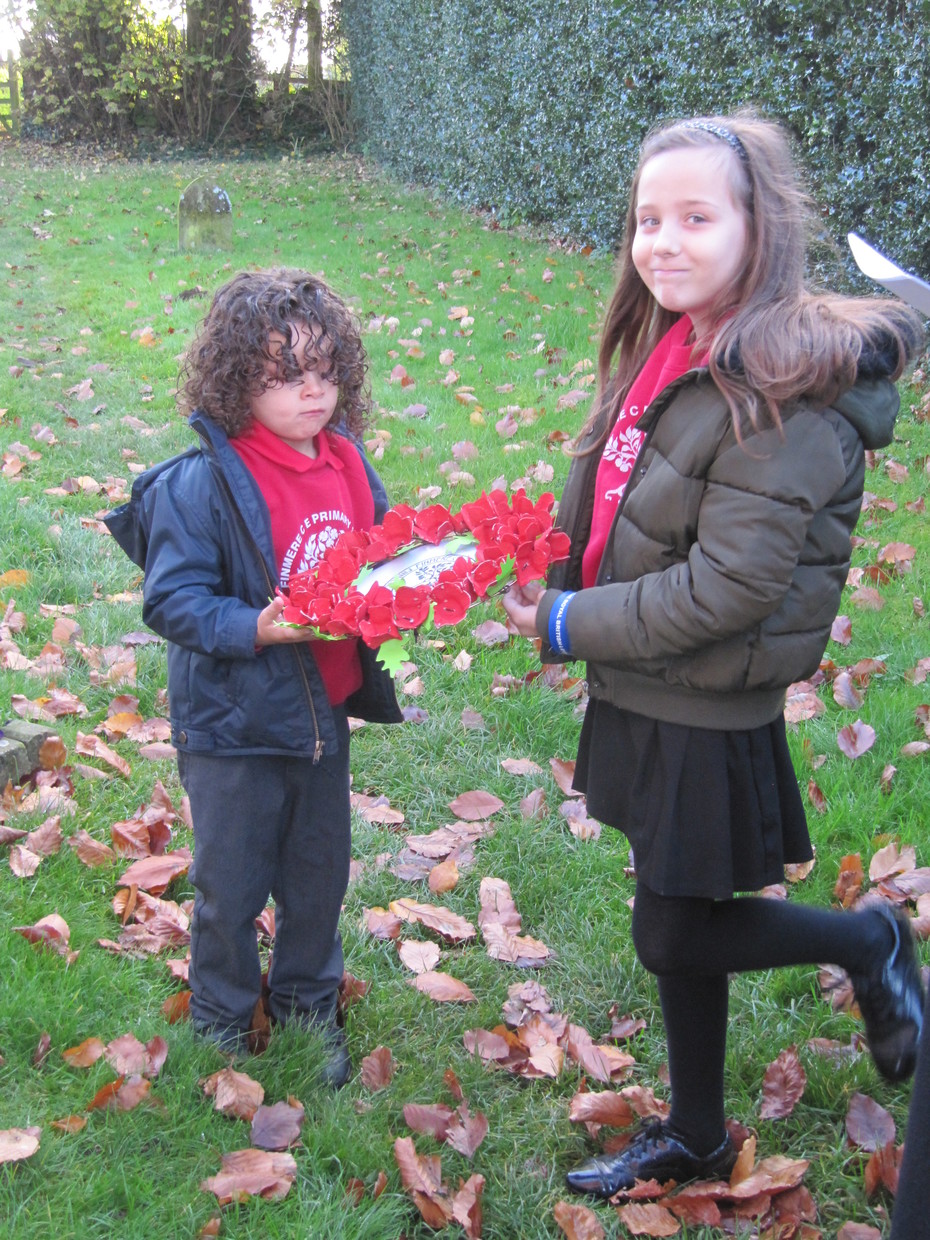 Ruby (Year 4) and Max (Year 3) reflected on a special day, Armistice Day.
"Today in Church we remembered the people in the war who died for us and to save our country. We laid the wreath we had made and had a two minute silence. I thought it was very peaceful. 'When you go home, tell them of us and say, for your tomorrows these gave their today. Our prayer 'God make peace within us – let us claim it. God make peace between us – let us share it. We will remember them'. Ruby
"Today we went to Church and laid down the wreath that we had all made. We were remembering the soldiers who lost their lives for us in the war. I felt peaceful and caring. We will remember them". Max
Advent Week
This week all the children have taken part in Advent Week, which has been an opportunity to not only have a go at arts and crafts based around the Advent theme, but has also given the children the time to pause and reflect on the true meaning of Christmas; the importance of 'getting ready on the inside' and thinking about Jesus' birth.
We had 4 different activities for the children to participate in and across the week the children took turns working with their friends across the school. Well done to Bertie, Ed, George and James for being such fantastic leaders, ensuring the younger children were looked after in each session.
A special thank you to Mrs Carpenter who braved the very chilly mornings and delivered some wonderful reflection time in the tepee which she had decorated with stars and Christmas lights to look beautiful. The children were inspired to write their prayers in this space. Mrs Hick gave the children time to think about gifts they would give to the baby Jesus which they then modelled from Play-dough. Mrs Batsford gave the children an insight into Christianity as a global faith and the children learnt about Christmas traditions in other countries, focusing on the festival of Saint Lucia in Sweden. Finally the children created some beautiful Advent bunting with Rev Alice which we plan to hang in the school hall, please do come and have a look at it.
We are very grateful to all the adults who came to help us with these sessions this week: Rev Alice, Iris Alder, Jan Shelley, Margaret Berwick, Rebecca Ayres and Rev. Bill.
Visit from Bishop Colin
In February we enjoyed a very special celebration assembly with the Bishop of Dorchester, The Rt Revd Colin Fletcher OBE.
Bishop Colin led a wonderful, insightful and hugely enjoyable assembly teaching the children all about his work as a Bishop and the meaning behind all the special clothes he wears. The children were enthralled and asked some fantastic questions. It was wonderful to see so many parents and visitors join us for this special occasion and we would like to thank FOFSA for providing such a warm welcome to the Bishop and for the lovely tea and cake following the service.
Easter Experience
in the last week of term the whole school visited Fringford Church and worked with Rev Alice and Rev Bill to revisit the Easter story.
Through a series of workstations, the children were able to think about each part of Easter week and reflect upon what it means to them.
They began by thinking about Palm Sunday and the Last Supper, before moving on to think about Good Friday and Easter Sunday. The children were able to share bread as part of the last supper, as well as writing messages on pebbles and to on card to lay at a cross. Please do take a look at the children's wok in the church if you are able to. Thank you to Alice, Bill and all the other volunteers at Fringford Church, for giving us some a special start to our last week of term.